item: 873
Governor Paul B. Johnson Jr. Inauguration, January 21, 1964
Item # 83-116; 270-278; 834-848; 863-888
This photograph was identified by Moncrief as "Inauguration, Johnson 1964." Governor Paul B. Johnson Jr. was inaugurated in Jackson on January 21, 1964, and Moncrief reported on the event for the Hattiesburg American.
The American gave extensive coverage to the inauguration of Hattiesburg native Paul B. Johnson Jr. Articles indicate that the inaugural-day program began with a parade down Capitol Street, which commenced at 9:00 a.m. Next, at the State Capitol, a brief concert presided over by Lieutenant Governor Carroll Gartin was followed by the oath of office, administered by Supreme Court Justice Tom Brady. In the afternoon, the Governor's Mansion hosted a reception, and an inaugural ball was held at the State Coliseum in the evening. A report on the parade identified Governor-elect Johnson, wearing top hat and tails, and Governor Ross Barnett in the lead car. They were followed by cars containing the governors' wives, Lt. Gov. Carroll Gartin and his wife and children, Mrs. Paul B. Johnson Sr., and Mrs. S. R. Power (mother of Mrs. Dorothy Johnson Jr.), Ralph Segrest and his wife (formerly Peggy Johnson, sister of the Governor), and cars with the children of Paul and his brother Pat. The article also focused on local participants, including the University of Southern Mississippi's band and Dixie Darlings marching troop, as well as the Hattiesburg HS, Petal HS, and Brooklyn FCAHS bands. Coverage of the afternoon reception at the mansion and ball focused on the gowns worn by the ladies. Special mention was made of Mrs. Paul B. Johnson Sr., who also celebrated her husband's inauguration in 1941, and was photographed by Moncrief with her daughter Peggy.3
3 Hattiesburg American, January 13, 21-22.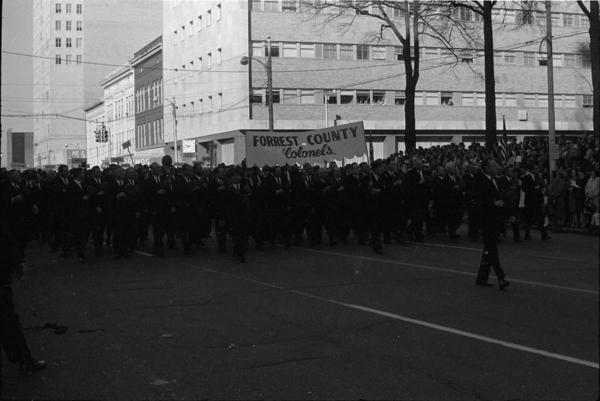 return